The J. Mack Robinson Story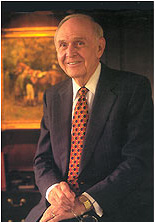 In the early 1950's, Mr. Robinson focused his attention on developing his finance companies - Dixie Finance Company and Gulf Finance Corporation - throughout the Southeast, establishing offices in over 100 cities. He sold these companies to First National Bank of Atlanta (later known as First Atlanta) in 1972. This sale made Mr. Robinson the bank's largest individual shareholder - a distinction he continued to hold after First Atlanta merged with Wachovia Bank. To complement his financial transactions, Mr. Robinson opened Delta Life Insurance Co. in 1958. He also privately underwrote the start-up of the French fashion house of Yves St. Laurent in the early 1960's.
During the 1960's and 1970's, Mr. Robinson became one of Georgia's top banking mentors with his acquisitions and development of more than 20 community banks. In 1974, he purchased the publicly held Atlantic American Corporation insurance conglomerate. Some of Robinson's past investments include Rhodes Furniture Stores, one of Georgia's largest sawmills, and companies in pest control and outdoor advertising. In recent years, Robinson's acquisitions have included Bull Run Corporation and Gray Television.
Active in supporting many causes, Mr. Robinson and his wife, Nita, an Atlantic American Board member, were named Philanthropists of the Year in 1994 by the Georgia Chapter, National Society of Fundraising Executives. In 1995, Mr. Robinson was inducted into the Business Hall of Fame by the College of Business Administration, Georgia State University. He also received an Honorary Degree from Oglethorpe University in 1995. Robinson has supported a scholarship fund for many years at both Oglethorpe and the University of Virginia. In 1995, Mr. Robinson received the Hope Award from the National Multiple Sclerosis Society.
Robinson has served as director of the Atlanta Arts Alliance (now known as the Woodruff Arts Center). He is Director Emeritus of Westminster Schools and Wachovia Corporation. He also serves as a life member of the board of directors of the High Museum of Art. In 1998, Georgia State University renamed their business school "The J. Mack Robinson School of Business." He received Georgia State University's Beta Gamma Sigma Medallion for Entrepreneurship in 1999.